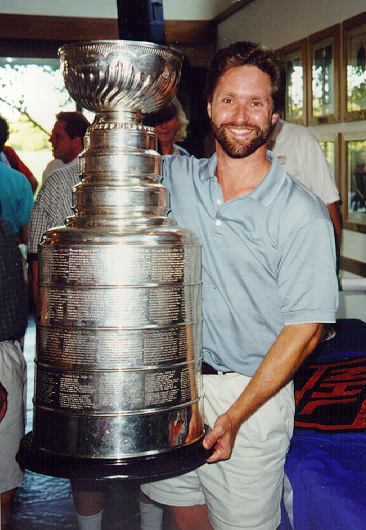 Each year the National Hockey League awards the Stanley Cup to the team that wins the league championship. Traditionally, each member of that team is allowed to take The Cup "home" for a day to share the excitement with friends, family and fans.
In 1999 the Dallas Stars won the championship, and that summer Joe Nieuwendyk brought the Cup to Cornell University, where he had been a student. As The Cup made the rounds in Ithaca, I had a chance to check it out. Thanks, Joe!
The Cup has actually been in Ithaca quite a few times in recent decades. Joe also brought it after winning championships in 1989 with the Calgary Flames and in 2003 with the New Jersey Devils. Native Ithacan Dustin Brown has brought it home twice after the Los Angeles Kings won championships in 2012 and 2014.